Gene Therapy CDMO: Choosing the Right One
Developing a promising gene therapy is one thing; scaling up manufacturing for clinical trials and, ultimately, to market is another. While there's no shortage of expertise and facilities for small molecule drugs, gene therapy is still an emerging field, which means the knowledge and resources to help a drug achieve commercial success are in short supply.
By utilizing a comprehensive set of services, including viral vector production, clinical trial management, and manufacturing scale-up capabilities, gene therapy contract development and manufacturing organizations (CDMOs) are able to make the drug development process more efficient and cost effective. This results in faster time-to-market for new drugs and treatments.
With the help of a CDMO with expertise in gene therapy, pharmaceutical companies can speed up the process and bring innovative treatments to market more quickly than ever before. If you're considering partnering with a gene therapy CDMO for your emerging pharmaceuticals, here's what you need to know.
Gene Therapy Market Outlook
The global gene therapy market is expected to reach $36.92 billion USD by 2027 with a CAGR of 39.62 percent during this period. This growth can be attributed to the rising prevalence of genetic diseases, increasing investments in research and development for gene therapies, and growing regulatory approval of new gene products. Additionally, favorable government policies and increased public awareness of gene-based therapies are expected to drive further market growth.
>>Related Read - Improving Pharma R&D Productivity: A Guide
Gene therapy CDMOs play an essential role in the development and commercialization of gene therapies and are critical partners for drug developers in accelerating the process of bringing novel treatments to patients. With their comprehensive services, these organizations offer unique advantages over traditional contract manufacturing organizations, making them a go-to partner for gene therapy companies. As the global gene therapy market continues to expand, top CDMO companies are well positioned to capitalize on this growing opportunity.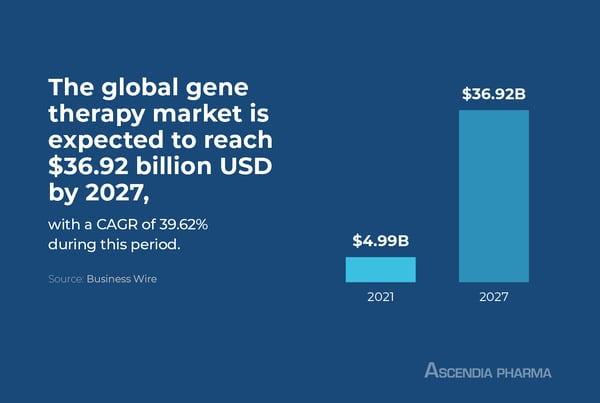 Outsourcing vs. Insourcing
When it comes to gene therapy pharmaceutical manufacturing, companies often have to decide between outsourcing or insourcing, depending on the complexity of their products.
Outsourcing to a CDMO with specialized capabilities for gene therapies can often be more cost effective and time efficient, as the CDMO will already have the necessary infrastructure in place and expertise at hand to push a product through the entire process. Considering the specialized design and equipment required for gene therapy production, building an in-house facility can cause costly delays, as there is a shortage of design and construction specialists in this area.
That said, insourcing can be beneficial for simpler gene therapies or when an in-house facility can be retrofitted for gene therapy production, as it allows companies to maintain direct control and oversight of the process. Furthermore, companies that have already invested in the necessary infrastructure for a particular process may find it more cost effective to keep production in-house.
Ultimately, the decision between outsourcing or insourcing depends on each company's particular needs and capabilities.
>>Related Read - Explore the Capabilities of Ascendia's Pharmaceutical Manufacturing Facility in the USA
What Is a Gene Therapy CDMO?
A gene therapy CDMO is an organization that specializes in the contract development and manufacturing of gene therapies. These organizations can provide comprehensive services for gene therapy product development, manufacturing, and commercialization, including:
Cell Sourcing and Viral Vector Production
Should a gene therapy product use primary or modified cell lines as the cell source? And what are the regulatory and licensing considerations involved in this decision? Experienced gene therapy CDMOs can help pharmaceutical companies make the right call and ensure that the starting cell material is both high quality and tailored to the needs of the input material.
Process Development
This includes initial process development and optimization of processes for gene therapy production. Each development and clinical trial phase has different requirements; a CDMO is nimble enough to navigate these changes without causing delays.
Clinical Trial Management
A gene therapy CDMO can manage some, many, or all aspects of clinical trials, from protocol design and patient recruitment to data management and reporting. Experienced CDMOs are able to anticipate potential obstacles and work to overcome them, ensuring a streamlined process.
Scale-Up Activities
Many gene therapy CDMOs also offer scale-up services to help companies more quickly commercialize their products once the clinical trial process is complete. This may include providing support for in-process testing and implementing stringent quality control standards.
>>Related Read - How to Scale Up Pharmaceutical Manufacturing
Regulatory Affairs Support
When it comes to regulatory affairs, a gene therapy CDMO will be able to provide expertise in creating regulatory submissions, managing site inspections, and navigating the approval process.
Supply Chain Management
This can include inventory management, logistics, and distribution services to ensure the timely supply of gene therapies to patients who need them. In addition, during the clinical trial material supply phase, companies must be able to safely deliver products to clinical sites without compromising their efficacy.
Why Partner with a CDMO for Gene Therapy
Partnering with a CDMO for gene therapy product development and manufacturing offers several key benefits:
Capital Costs
Outsourcing to a CDMO eliminates the need for expensive capital investments in infrastructure and specialized equipment, reducing upfront costs. For a start-up or small biotech, this is especially important, as it allows these companies to direct resources to other areas of their businesses. It also reduces risk in terms of cost, as the CDMO is likely to absorb any additional expenses associated with changes in production or process development.
Manufacturing Capacity
Gene therapy CDMOs often have the capacity to handle large-scale production needs, allowing companies to bring their products to market more efficiently. Manufacturing capacity is especially important in the gene therapy space where products require specialized processes and equipment.
>>Related Read - GMP Requirements for Clinical Trial Material: An Overview
Experience
The best CDMOs have the experience and expertise to navigate complex regulatory pathways, ensuring efficient and successful product commercialization. Start-up companies are able to leverage the experience of the highly skilled CDMO workforce to shorten time-to-market and reduce risk.
Customized Solutions
Gene therapy CDMOs offer tailored solutions for each project, enabling companies to create comprehensive manufacturing plans that meet their specific needs. With a vast number of resources at their disposal, CDMOs have built-in flexibility that gene therapy start-ups often cannot match with their own in-house manufacturing.
Speed to Market
By outsourcing to a gene therapy CDMO, companies are able to streamline pharmaceutical formulation development and commercialization, allowing them to bring their products to market faster. This is especially important in the gene therapy space, where speed is essential for success.
>>Related Read - Formulation Development: Why It's So Important
What to Look for in a Gene Therapy CDMO
Once you've decided to partner with a gene therapy CDMO, you'll need to choose the right organization for your product. These are the key factors to consider when selecting a CDMO:

Expertise
Look for a CDMO with in-depth expertise and years of experience in gene therapy manufacturing. It's not enough to simply have the right equipment and facilities; you also want a CDMO with experienced personnel who understand the complexities of gene therapy manufacturing. Ask how many gene therapy projects they have completed and request additional information about their capabilities and processes.
Regulatory History
Choose a CDMO with a proven track record of successful product approvals. This is especially important in the gene therapy space, where regulatory processes can be complex and challenging. The CDMO should have a deep understanding of the various regulatory pathways and be able to provide guidance on the most efficient and effective path forward.
>> Related Read - CDMO Selection Criteria: 4 Factors to Consider
Facilities
Ensure the CDMO has up-to-date facilities and the latest equipment for handling your product. For gene therapy, this includes specialized facilities for cell and virus production, as well as cleanrooms designed to meet the stringent requirements for cGMP manufacturing in the pharmaceutical industry .
Manufacturing Capabilities
Look for a CDMO with scale-up capabilities, as well as sophisticated process development and quality control/quality assurance services. Ask about their product development capabilities and request details on their process validation protocols.
Location
The location of the CDMO can be important in terms of cost, safety, and regulatory considerations. For example, you may wish to choose a facility located near where you plan on conducting clinical trials for regulatory reasons and for minimizing shipping costs and time.
Costs
Finally, consider the CDMO's costs and fee structures to ensure that your project stays within budget. After all, partnering with a gene therapy CDMO should save you money, not cost you more. Top CDMOs often have the infrastructure, resources, and financial capacities to deliver the services you need on time and on budget.
>>Related Read - Discover How the Right Pharmaceutical Technology Can Offer a Distinct Go-to-Market Advantage
The Bottom Line: Trust Is Paramount
Finding a CDMO you can trust with your gene therapy product is essential for successful development and commercialization. A reliable, experienced gene therapy CDMO like Ascendia Pharmaceuticals can provide invaluable support throughout the process, ensuring that products are developed quickly and cost effectively.
Ascendia is a leading CDMO in the gene therapy space, ranked on the Inc. 5000 list of the nation's fastest growing companies. Reach out today to learn more about partnering with us!
Back to articles