OUR FACILITY & EQUIPMENT
Ascendia's expansive 60,000-square-foot state-of-the-art facility in North Brunswick, NJ include sterile manufacturing with an ISO-5 process and filling room space. We have formulation development and analytical testing laboratories in which we conduct our prototype screening, product development, physical property characterization activities, method development, method validation and stability testing.
Ascendia® has Class 10,000 (ISO 7) and Class 100 (ISO 5) cleanrooms for conducting cGMP manufacture of sterile injectable products, and Class 10,000 (ISO 7) manufacturing suites for production of oral dosage forms. Ascendia is qualified to produce Phase I/II clinical trial materials – both for formulations developed by Ascendia and for formulations transferred to Ascendia. Ascendia has self-contained isolators for use with high potency compounds and/or aseptic processing.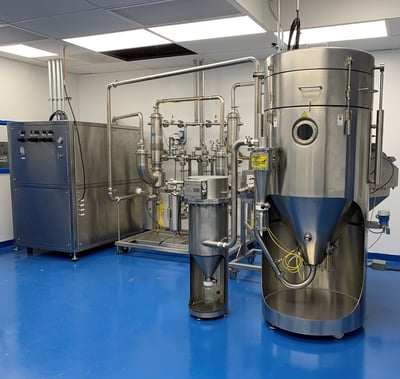 Ascendia also offers Phase 3 and commercial supply for production of prefilled syringes, vials, cartridges, and other deliverables at a large scale. This includes biomanufacturing and packaging.
Ascendia formulation and manufacturing services are available to pharmaceutical and biopharmaceutical companies that seek a CDMO partner for their formulation as it transfers from a preclinical phase to early and late-stage clinical development.
Ascendia can transition a development program quickly to cGMP manufacture of first-in-man clinical materials. Manufacturing capabilities include dosage forms for oral, topical, or parenteral administration.
Our state-of-the-art facility boasts the latest technology and equipment. Select examples include but are not limited to the following:
·

Isolators for potent compounds

Lyophilization (freeze-drying)

Nano-particle bead-milling

Fluid-bed granulation and coating

High pressure homogenizer
Below is a sampling of our analytical instrumentation for testing pharmaceutical formulations:
| | |
| --- | --- |
| Charge Aerosol Detector (CAD) | |
| Differential scanning calorimetry (DSC and mDSC) | |
| Finished dosage form testing: density, hardness; friability, disintegration, viscosity | |
| | Particle size distribution analysis |
| | · Polarized light microscopy |
| HPLC and UPLC (Empower 3) | Total Organic Carbon (TOC) Analyzer |
| | |
| | · UV (fiber optic) Dissolution |
| Karl Fischer moisture determination | · UV/Vis spectrophotometry |
Specialized Equipment for Lipid Nanoparticles
For LNP projects, Ascendia Pharma has integrated the Precision Nanosystems' NanoAssemblr® GMP System into its manufacturing process. The NanoAssemblr GMP System expedites drug development timelines through a seamless scale-up process across our platform. This minimizes engineering batches and de-risks manufacturing under cGMP conditions for robust and reproducible results.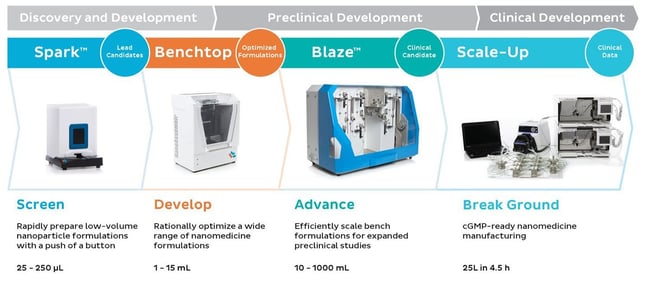 As part of this system, Ascendia is the only CDMO in North America that has all of following pieces of key equipment:
NanoAssemblr® Blaze™ - A candidate drug must be shown to be both potent and non-toxic in relevant models. While early screening in murine models is enough to begin a program, the demands for data from larger models will increase.
Traditionally, process development for nanomedicine production at an intermediate scale is a barrier to this work. With NxGen™ technology on the NanoAssemblr® Blaze™, these important studies can be conducted efficiently with a process that mirrors a clinical scale implementation. In addition, the Blaze+ Upgrade allows the formulation of volumes from 1 L to 10 L to enable late preclinical experiments and process development activities to be performed in house at lower cost.
NanoAssemblr Blaze uses the same microfluidic architecture
NanoAssemblr - The NanoAssemblr® Ignite™ and Ignite+™ enable the controlled and precise assembly of lipid nanoparticles (LNPs) by combining optimized precision pumping with the time-invariant mixing of NxGen™ microfluidic technology. By modeling unit operations at scale and maintaining the same process parameters as the NanoAssemblr Blaze and GMP System, Ignite and Ignite+ simplify the transition into clinical development and manufacturing. Incorporating fundamental process steps for scale-up in the earliest stages of preclinical development at low volumes reduces risks, simplifies workflows and accelerates drug development timelines.
NanoAssemblr® Spark™ - The Spark instrument overcomes the challenges of traditional techniques for the controlled and reproducible manufacturing of LNPs at low volumes. It can also help establish CQAs, such as cargo sizing and the ratio between the positively charged lipid amine groups (N) and the negatively charged nucleic acid phosphate groups (P) or N/P ratio.
Want to learn more about
Ascendia's expertise?
Get up-to-date information