cGMP Manufacturing in the Pharmaceutical Industry
When choosing a CDMO partner, investigating their compliance with cGMP regulations should be a high priority. cGMP refers to the Current Good Manufacturing Practice regulations set forth by the U.S. Food and Drug Administration (FDA) for the proper design, monitoring, and control of manufacturing processes, equipment, and facilities. Adhering to these guidelines ensures that pharmaceutical and biologic companies offer customers a safe, high-quality product and that production will continue uninterrupted.
What are cGMPs?
Current Good Manufacturing Practices (cGMP) are guidelines that provide a system of processes, controls, and documentation to ensure the safety, quality, and efficacy of pharmaceutical products. cGMPs are designed to prevent errors and contamination during all stages of drug manufacturing, from raw materials to finished products. Different countries have their own cGMP requirements and regulatory agencies that oversee them. Additionally, the World Health Organization (WHO) has its own GMP standards, which are used by pharmaceutical regulators in over 100 countries around the world.
All pharmaceutical companies that manufacture drugs in the United States must comply with cGMPs, which are regulated by the FDA using the authority given in the Federal Food, Drug, and Cosmetic Act. Pharmaceutical companies that manufacture drugs outside of the United States are still subject to FDA regulatory oversight through a Mutual Recognition Agreement (MRA) that grants authority to foreign regulatory companies for facility inspections.
cGMP regulations apply to a wide range of products, from orally-administered medications to injectable drugs, as well as medical devices and biologics. In general, any product intended to be used for the diagnosis, cure, mitigation, treatment, or prevention of disease is subject to cGMPs.
cGMPs are constantly evolving (which is why they're referred to as "current" guidelines), and pharmaceutical companies must keep up with the latest changes to ensure compliance. As new classes of drugs come to market, cGMP requirements change and adapt.
The Importance of cGMP Manufacturing
cGMPs play a critical role in protecting patients in an industry where the stakes are high — quite literally, life or death. When drugs are manufactured in compliance with cGMP regulations, patients can be confident that they are receiving safe and effective products.
Compliance with cGMP regulations is also crucial for pharmaceutical companies. Non-compliance can lead to FDA sanctions, including product recalls, fines, and even criminal prosecution. For start-up companies, these penalties may cause the business to permanently close its doors.
It is essential for pharmaceutical companies and their partners, including CDMOs, to have a comprehensive understanding of the latest cGMP guidelines and how to implement them in their manufacturing processes. They must also have stringent quality control and risk management systems in place to identify and address any potential problems.
cGMP Pharmaceutical Requirements
There are several FDA regulations that apply to cGMPs for pharmaceutical companies. These include:
Each regulation has its own specific requirements that must be followed for manufacturing the materials in question, but many of the regulations apply to all pharmaceutical and medical device manufacturers. These general requirements are sometimes referred to as the 5 Ps, or the five pillars of cGMP manufacturing.
5 Pillars of cGMP Manufacturing
These pillars are the foundation of cGMP pharmaceutical manufacturing. When looking for a partner CDMO, it's important to be familiar with these guidelines so you can ensure that any potential manufacturing partner has the ability and willingness to comply with them.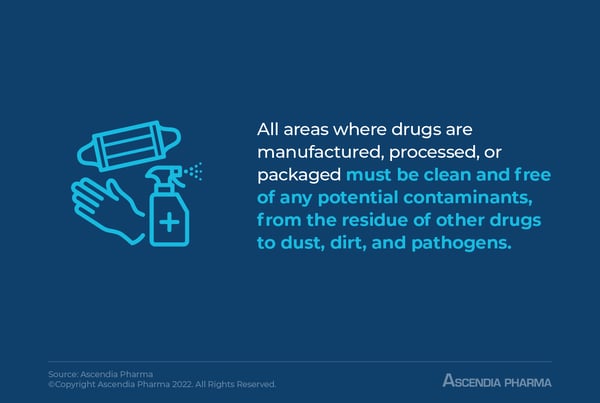 Premises (Facilities and Equipment)
The premises where a pharmaceutical company operates must meet certain minimum standards. The facility should be of sound construction, with adequate lighting, ventilation, and temperature control.
All areas where drugs are manufactured, processed, or packaged must be clean and free of any potential contaminants, from the residue of other drugs to dust, dirt, and pathogens. Equipment used in the manufacturing process must be suitable for its intended purpose and must be properly cleaned and maintained to prevent contamination.
Products and Raw Materials
Certainly, all finished products must be in compliance with FDA regulations, but raw materials are also subject to cGMP requirements. Any raw materials used in the manufacture of drugs must be of verifiable quality and must meet all applicable regulatory requirements. This includes active pharmaceutical ingredients (APIs) and any excipients.
In addition, suppliers of raw materials must be carefully vetted to ensure that they meet cGMP standards. A comprehensive supplier management program should be in place to ensure that all materials used in the manufacturing process meet the required quality standards.
Packaging and labeling should also meet FDA requirements. This includes primary packaging (the packaging that the finished product is sold in) and secondary packaging (the packaging used for storage or transportation). Even the glue used to affix a label to a plastic bottle has the potential to contaminate a drug or change its properties; no detail is too small when it comes to cGMP requirements.
People
All personnel involved in the manufacturing process should be properly trained and qualified to do their jobs. They must also be able to understand and follow all cGMP procedures. Managers must define and develop job expectations and roles, while employees must continually demonstrate job competency.
There should be a clear chain of responsibility so that everyone understands their role in the manufacturing process. This helps to ensure that there is no confusion about who is responsible for what tasks and that everyone is aware of the potential consequences of not following cGMP procedures. Proper hygiene, sanitation, and safety measures all protect products from contamination, and none of these are possible without the commitment of employees.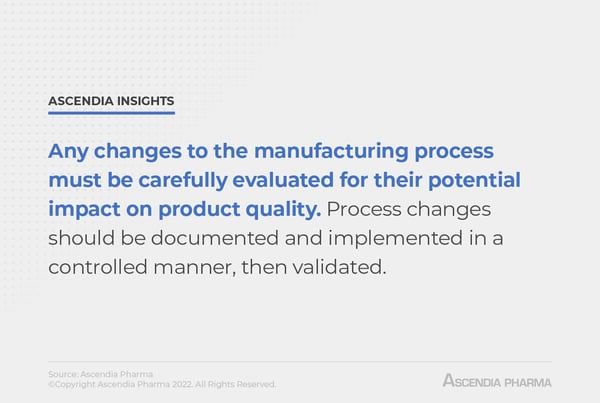 Processes
Manufacturing processes should be designed to ensure product quality. This includes everything from the initial design of the process to validation and ongoing monitoring. Manufacturers should have detailed standard operating procedures (SOPs) in place—and employees must also follow them. SOPs should be clearly and prominently displayed in the facility.
Any changes to the manufacturing process must be carefully evaluated for their potential impact on product quality. Process changes should be documented and implemented in a controlled manner, then validated.
A comprehensive quality control program is also essential to ensuring that processes (and products) are cGMP compliant. This program should include regular testing of both raw materials and finished products to verify that they meet all quality standards.
Finally, it's important to have procedures in place for investigating and responding to any quality issues that may arise. These procedures should be designed to prevent any non-conforming products from being released to the market and quickly identify the source of any problems.
Procedures
Sometimes "procedures" is grouped with processes, while other times, it's categorized as paperwork (i.e., documentation). In any case, it's an important part of cGMP manufacturing.
All procedures related to the manufacturing process must be well-written and followed correctly. This includes SOPs, batch records, and validation protocols. Procedures should be reviewed and approved by the appropriate stakeholders before they are implemented. This helps to ensure that all procedures are feasible, and also up-to-date and compliant with cGMP requirements.
In addition, records related to the manufacture of drugs must be accurate and complete. All work during each step of the process should be documented through batch records, test results, and calibration records. Records should be properly reviewed and approved before they are filed.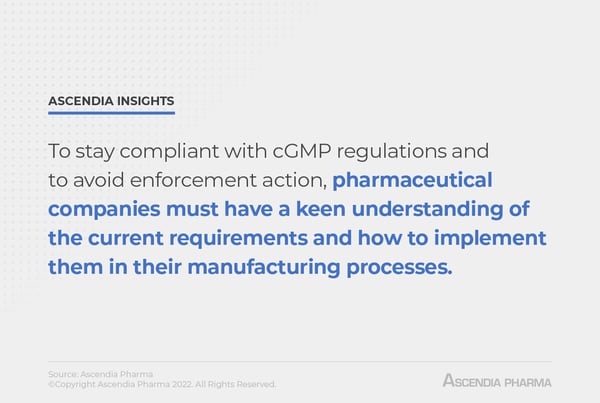 cGMP Regulation Enforcement
The FDA is responsible for enforcing cGMP regulations. To ensure compliance with cGMP regulations, the FDA regularly inspects pharmaceutical manufacturing facilities. During these inspections, the FDA looks for evidence that companies are following cGMP guidelines.
If the FDA finds evidence of non-compliance, it can take enforcement action against the company. To stay compliant with cGMP regulations, pharmaceutical companies must have a keen understanding of the current requirements and how to implement them in their manufacturing processes. They must also have robust quality control and risk management systems in place to identify and address any potential problems.
Partner With Ascendia Pharmaceuticals
Ascendia Pharmaceuticals specializes in creating formulations for poorly water soluble molecules and the manufacture of cGMP clinical trial materials. We're equipped to seamlessly transition from formulation selection and optimization to a cGMP manufacturing program for first-in-man clinical materials for oral, topical, and parenteral dosages.
Our North Brunswick, NJ facility has Class 10,000 (ISO 7) and Class 100 (ISO 5) cleanrooms for cGMP manufacture and Class 10,000 (ISO 7) manufacturing suites. With our skilled team and extensive experience, you can be confident knowing that each step of our manufacturing process adheres to all cGMP requirements. We're ready to hit the ground running so your product is able to get to market sooner.
To learn more about working with Ascendia Pharmaceuticals, contact us today.
Back to articles