Biological Formulation Development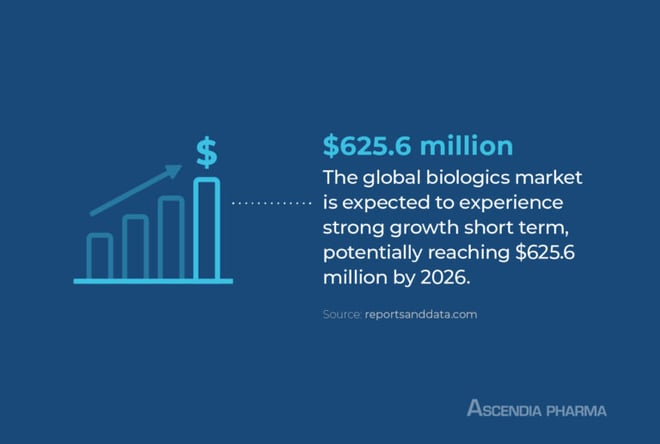 Biological formulation development involves discovering solutions for the most bioactive, native protein delivery. It poses a myriad of challenges due to the fact biologics consist of generally large, complex molecules that complicate drug development.
Biologics are at the forefront of many current medical advances. They have established a key position in the pharmaceutical market by revolutionizing treatments of several serious illnesses. In fact, conditions that were untreatable a few years ago are now being treated via gene-based and cellular biologics.
It is because of this unique market position that many pharmaceutical companies are developing biological drugs. So much so that the global biologics market is expected to experience strong growth short term, potentially reaching $625.6 million by 2026.1
Maintaining drug product quality, efficacy, and safety is essential during biologics formulation development. That is why using a qualified contract development and manufacturing organization (CDMO) adept in biologics can help meet timelines and stay within budget.
Biologics Development Process
The biologics formulation development process includes proven methods to address the unique challenges associated with dealing with living organisms. Biological products range from vaccines, blood components, and allergenics to somatic cells, gene therapy, tissues, and recombinant therapeutic proteins. Operating procedures must address considerable factors unique to these products:
Molecule size – Biological molecules range from 3000 atoms to 25,000+ atoms, making them larger than small molecules.
Complexity – Sugars, proteins, nucleic acids, and combinations of these substances can make-up a biological drug. They are also often composed of cells, tissues, and similar living entities. In short, biologics are much more complex than chemically synthesized small molecule formulations.
Aggregation and degradation – Preventing and reducing the level of aggregation is critical, particularly with monoclonal antibodies (mAbs). It is not easily solved, with further challenges created due to the varied nature and 3D structure of different biologics.
Exposure to various conditions – During formulation development, the biomolecule is exposed to:
Buffers, pH levels, salt concentrations, shears, and varied temperatures
Excipients to help stabilize the protein and aid in manufacturing or drug delivery
High concentrations of buffers and additives, before protein aggregation occurs
The Food and Drug Administration (FDA) offers guidance to help develop biologics, as part of its regulatory documentation. Scientists in the agency's Center for Biologics Evaluation and Research (CBER) conduct studies to help establish a scientific base for regulatory review. CBER also developed the Biologics License Application (BLA) for drug companies to introduce or deliver for introduction a biologic product for approval.
>> Related Read: Accelerating the Biologics Development Process
Drug Substance vs. Drug Product for Biologics
For biologics, understanding how drug substances and drug product development must complement each other can save valuable time and help projects stay within budget. Each plays a distinct role in the overall success of biological development.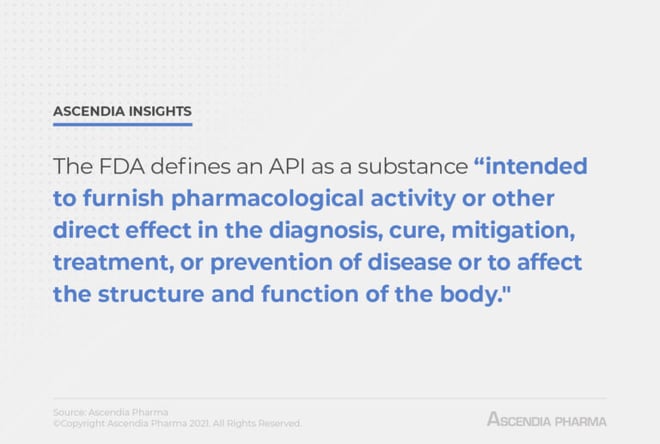 A drug product has market availability and is ready for use by consumers. It is made of an active pharmaceutical ingredient (API) and excipients. The FDA defines an API as a substance "intended to furnish pharmacological activity or other direct effect in the diagnosis, cure, mitigation, treatment, or prevention of disease or to affect the structure and function of the body."
In essence, a drug substance is an API. A drug substance must be mixed with other components before being released for use in the market. Additional components are necessary to achieve the required sensitivity and stability for use. Examples are magnesium stearate, starch, and talc.
The FDA offers guidance on how pharmaceutical companies can choose different approaches in developing a drug substance and drug product. It is part of the agency's extensive biologics guidance provided through a series of documents detailing specific products or issues related to design, production, labeling, promotion, manufacturing, and testing of biologic drugs. Other documents address processing, content, and evaluation or approval of submissions.
Biological Product Definition
Unlike chemically synthesized drugs that have a known structure, biologic drugs are complex mixtures not easily identified or characterized. They are extracted from living organisms, such as cells and tissues. The FDA also states biologics can be composed of sugars, proteins, or nucleic acids or complex combinations of the substances. Biologics tend to be heat sensitive and susceptible to microbial contamination.
Distinct advantages are realized when using biologics instead of chemically synthesized drugs. One key benefit is that biologics are very target-specific, so they don't bind to non-target molecules. The result is fewer side effects in patients. Additionally, any side effects are typically associated with pharmacological effects.
Types of Biological Products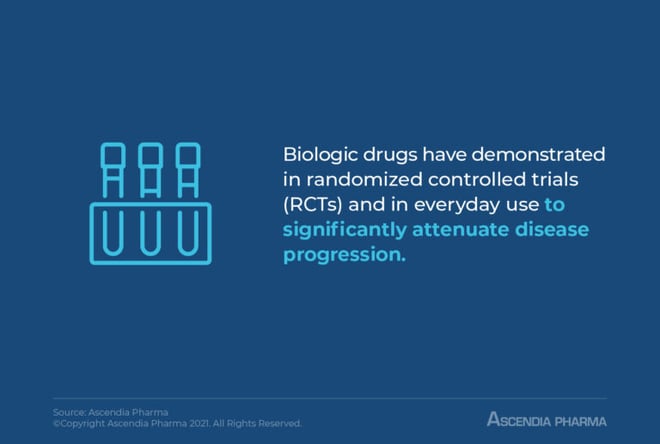 Biologic drugs have demonstrated in randomized controlled trials (RCTs) and in everyday use to significantly attenuate disease progression. They have shown to reduce pain and swelling, joint damage, and skin and Gastrointestinal (GI) lesions.2
With all these benefits, it's no surprise there are many biological products approved for use in the United States. Examples are therapeutic proteins, such as filgrastim; mAbs, including adalimumab; and vaccines for viruses. Cell and gene therapies and other emerging segments are also targets for biological drugs.
Common conditions treated with biologic drugs include:
Arthritis – Rheumatoid arthritis (RA), as well as psoriatic arthritis and juvenile idiopathic arthritis are treated using biologics.
Diabetes – Insulin drugs are being developed using biologics.
Multiple sclerosis (MS) – Biologics help reduce relapses of MS by depleting white blood cells and targeting a protein on the surface of immune cells.
Oncology – Biologics are prominently used for drugs to treat breast cancer, cervical cancer, non-Hodgkin's lymphoma, and leukemia. Medications to address side effects of chemotherapy are also developed using biologics.
Ophthalmology – Biologics are showing promise treating ocular inflammatory diseases.
Are Peptides Considered Biologics?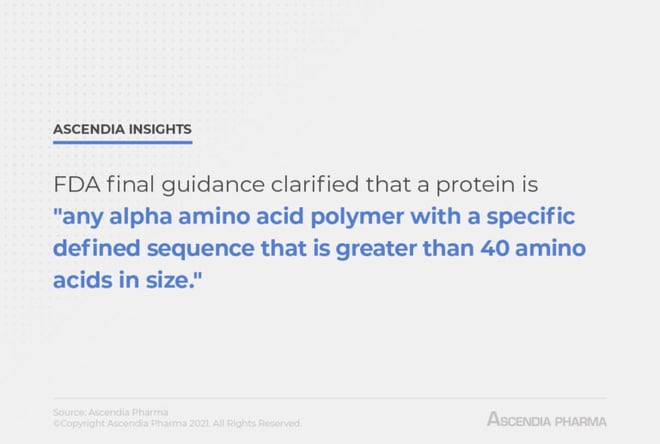 Biologics are proteins or peptides developed from naturally occurring amino acids from living organisms. Peptides are defined by the FDA as amino acid polymers containing 40 or fewer amino acids. FDA final guidance clarified that a protein is "any alpha amino acid polymer with a specific defined sequence that is greater than 40 amino acids in size."
The Further Consolidated Appropriations Act, 2020 removed the chemically synthesized exclusion for proteins. The change potentially increases the number of proteins that can become biologics. It also should be noted that proteins used as an inactive ingredient in a drug are not considered proteins for purposes of the statutory definition of "biological product" and the transition provision.
Typically, proteins and peptides are more sensitive to degradations caused by processes and storage. For these reasons, biologics formulation development must follow more stringent practices than small synthetic molecules.
Biopharmaceutical Formulation Development and More
Ascendia has invested heavily in drug delivery nanotechnologies that aid in biopharmaceutical formulation development, as well as other large and small molecule formulations. The versatility of EmulSol®, NanoSol®, and AmorSol® helps Ascendia successfully address almost all new compounds with different challenging properties, including biopharmaceutical products. In fact, Ascendia has generated six patents using its nanotechnologies.
Ascendia has been named a "Partner of Choice" by multiple clients because of the success we have achieved in overcoming the most difficult formulation challenges. Our formulations have been developed for all dosage forms. Contact us today to discuss how we can be your Partner of Choice.

References:
Reports and Data, "Biologics Market By Product (Monoclonal Antibodies, Vaccines, Recombinant Hormones/Proteins), By Application (Cancer, Infectious Diseases, Autoimmune diseases), By End use (Hospitals, Clinics, Diagnostic Centres), and Region, Forecasts to 2026," Market Report, reportsanddata.com (October 2019).


Aletaha D, Smolen JS. Diagnosis and management of rheumatoid arthritis: a review. JAMA 2018; 320: 1360–1372; Haugeberg G, Hansen IJW, Soldal DM, et al. Ten years of change in clinical disease status and treatment in rheumatoid arthritis: results based on standardized monitoring of patients in an ordinary outpatient clinic in southern Norway. Arthritis Res Ther 2015; 17: 219.
Want to learn more about
Ascendia's expertise?
Get up-to-date information