GMP Requirements for Clinical Trial Material: An Overview
Good manufacturing practices (GMP) are not limited to drugs that are approved to market by the FDA. GMP guidance also applies to investigational drugs that are still undergoing clinical trials. Manufacturing clinical trial material means having a keen understanding of current GMP requirements to ensure drugs are produced consistently with strict quality controls in place, but there are some unique challenges at play that aren't present during later stages of drug development. Here's what you need to know about GMP in clinical research.
An Overview of GMP and Clinical Trials
It's common for pharmaceutical companies to partner with contract development and manufacturing organizations (CDMO) during the drug development and manufacturing process. In such cases, the pharmaceutical company sponsoring the clinical trial and the CDMO are both responsible for ensuring that manufacturing complies with GMP requirements.
Phase 1 clinical trials represent a critical juncture in the drug development process, as they are the first time an investigational drug is used for human subjects. Following GMP guidelines is important for ensuring safety during the initiation of investigational clinical trials and for improving the quality of phase 1 investigational drugs.
Per the FDA, GMP requirements apply to the following types of drugs in phase 1 development, regardless of whether they are manufactured in large- or small-scale environments: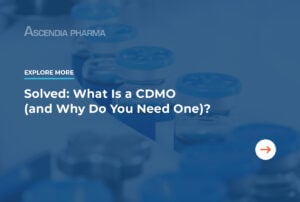 • Investigational recombinant and non-recombinant therapeutic products
• Vaccine products
• Allergenic products
• In vivo diagnostics
• Plasma derivative products
• Blood and blood components
• Gene therapy products
• Somatic cellular therapy products, including xenotransplantation products
The best way to comply with GMP guidelines is to have standardized quality control procedures in place. This includes the following:
• A clear, written quality control plan
• A controlled manufacturing environment
• Accurate and consistent recorded data from manufacturing
Manufacturers must also understand the unique hazards and risks in their facility that have the potential to affect the quality of a phase 1 investigational drug, i.e., cross-contamination from other drugs being manufactured in the same environment. Once identified, steps should be taken to mitigate these risks.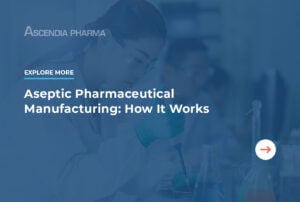 FDA IND phase 1 guidance recommends:
• Disposable equipment and process aids to reduce the risk of contamination through improper cleaning
• Pre-sterilized containers and other commercial, prepackaged materials to eliminate the need for additional equipment and demonstrating GMP control of existing equipment
• Closed process equipment to prevent exposure of a phase 1 investigational drug to the environment during processing
• Using contract or shared GMP manufacturing facilities and testing laboratories
There are special considerations to be made for biological and biotechnological products in phase 1 clinical trials. Testing is even more critical to ensure that biologics are filtered properly and free of vital loads, bacterial toxins, and residual substances. Furthermore, an aseptic manufacturing environment must be maintained by any biologics CDMO, which requires additional precautions as outlined by the FDA in their aseptic processing guidelines.
GMP for Manufacturing Clinical Trial Material
In their guidance for cGMP for phase 1 investigational drugs, the FDA provides a series of quality control (QC) recommendations for CDMOs and other clinical trial material manufacturers.
Personnel
The personnel working in a manufacturing facility must have appropriate education, training, and experience to perform their assigned duties; specifically, they should be familiar with QC guidelines as they apply to phase 1 materials.
QC Function
As discussed earlier, a written QC plan is key to GMP compliance. This written plan should include:
• The examination of materials used in the manufacture of clinical trial materials to ensure that they are appropriate and meet quality standards
• The review and approval of manufacturing procedures, testing procedures, and acceptance criteria
• The release or rejection of each batch of a drug based on a review of manufacturing records and other relevant information, ensuring the correct procedures were followed, tests were performed appropriately, etc.
• The investigation of unexpected results or errors that occur during manufacturing or errors uncovered during the clinical trial, and initiation of corrective action, when necessary
While all personnel should be familiar with QC guidelines, the FDA also recommends that certain individuals are assigned to a QC role for optimal safety. In a large manufacturing facility, several QC agents may be needed for different aspects of the manufacturing process; for smaller scale production, a single QC agent may be appropriate.
In such circumstances, another qualified individual who is not involved in the manufacturing operation should conduct additional periodic reviews of manufacturing records and other QC activities for GMP compliance.
Facility and Equipment
Facilities where clinical trial materials are manufactured must be designed to have sufficient work areas and appropriate equipment for the drug being manufactured. This means:
• Adequate space, a sanitary environment, and appropriate construction
• Appropriate lighting, ventilation, heating, cooling, plumbing, washing, and sanitation
• Appropriate equipment to maintain an air cleanliness classification to prevent contamination and cross-contamination
• Appropriate equipment that is properly maintained, calibrated, cleaned, and sanitized regularly following written procedures to prevent the contamination of phase 1 investigational drugs
• All equipment used for a particular process should be identified and documented in the manufacturing record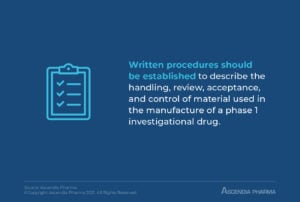 Control of Components, Containers, and Closures
Written procedures should be established to describe the handling, review, acceptance, and control of material used in the manufacture of a phase 1 investigational drug. These materials should be stored in such a way to prevent degradation or contamination, and controlled until they have been examined or tested; after this, they may be released into the manufacturing environment.
Manufacturers should be able to identify and trace all materials used in the manufacture of a phase 1 investigational drug, so the FDA recommends keeping a record with all relevant information on all materials, including the receipt date, quantity of the shipment, supplier's name, material lot number, storage conditions, and corresponding expiration date. For some types of items, such as biologics derived from humans or animals, documentation should include information on sourcing and any test results for adventitious agents.
Manufacturing and Records
As with general QC guidelines, there should also be a written plan in place for manufacturing and process control procedures. The FDA recommends that manufacturers document:
• Manufacturing data, with the materials, equipment, procedures used, along with any problems during manufacturing. Documentation should be thorough enough to replicate the manufacturing process
• Changes in procedures and processes for subsequent batches and the reasoning behind any changes
• Microbiological controls for the production of sterile-processed phase 1 investigational drugs that are covered by GMP guidelines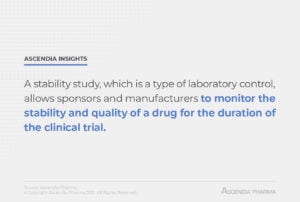 Laboratory Controls for Testing and Stability
Laboratory tests used in different steps of the manufacturing process must be scientifically sound, as well as applicable and reliable for the purpose at hand. Tests should be performed under controlled conditions and, again, follow written procedures that detail testing methodology. Equipment should be calibrated and maintained, and verified to be in working condition before any testing occurs.
Meticulous records should be kept of all test results, as well as any changes in procedures. The testing of phase 1 investigational drugs is critical, as it serves to evaluate the quality and attributes, including their identity, strength, potency, and purity. These attributes should be monitored, recorded, and consistently met to ensure the integrity of the clinical trial.
Manufacturers must retain a representative sample from each batch of a phase 1 investigational drug; the sample should be of a quantity sufficient to perform additional testing or investigation, if needed. The FDA recommends storing these samples for at least two years following clinical trial termination or the withdrawal of the IND application.
Stability studies are another type of laboratory control. These studies should be conducted using representative samples of the phase 1 investigational drug; a stability study allows sponsors and manufacturers to monitor the stability and quality of a drug for the duration of the clinical trial.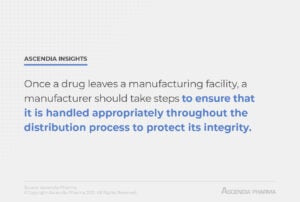 Packaging, Labeling, and Distributing
A phase 1 investigational drug should be packaged in such a way that it is protected from tampering, contamination, and other damage during storage, handling, and shipping. Manufacturers should have documentation establishing procedures for packaging, labeling, and distributing a phase 1 investigational drug.
Product segregation, label reconciliation, verification by a second person, confirmatory laboratory testing, and QC review may be necessary for effective control, particularly when a clinical trial involves placebos, blinded trials, or different formulations.
Once a drug leaves a manufacturing facility, a manufacturer should take steps to ensure that it is handled appropriately throughout the distribution process to protect its integrity. Distribution records of each batch must be detailed enough to allow traceability and facilitate a recall, if necessary.
Recordkeeping
Once again, the FDA reiterates the importance of documentation and recordkeeping in manufacturing clinical trial material. At a minimum, complete records should be kept to document:
• Equipment maintenance and calibration
• Manufacturing and related analytical testing
• Distribution
• QC functions
• Components
• Deviations and investigations
• Complaints
Sponsors are required to retain records for at least two years following the approval of a marketing application for the drug being investigated. If an application is not approved, the records should be kept for two years following the final shipment and delivery of the phase 1 investigational drug.
Learn More About GMP Requirements for Clinical Trial Material
Explore a collaborative partnership with Ascendia, a specialty CDMO with a proven track record for successfully manufacturing clinical trial materials. We're ready to hit the ground running, so contact us today.
Back to articles