Pre-Filled Syringes: Aseptic Filling and Manufacturing
Pre-filled syringes offer a number of advantages over other traditional parenteral drug delivery systems, including improved accuracy and convenience in the administration of drugs and their active ingredients. These syringes are typically manufactured in an aseptic, or sterile, environment where all components, processes, and personnel have been validated as safe for use. During production, aseptic techniques are used to ensure that no contaminants are introduced into the product
In this article, we will discuss the growing demand for pre-filled syringes, the benefits of pre-filled syringe products, and the fill-finish manufacturing process involved in aseptic syringe filling.
Related Read - Aseptic Pharmaceutical Manufacturing: How It Works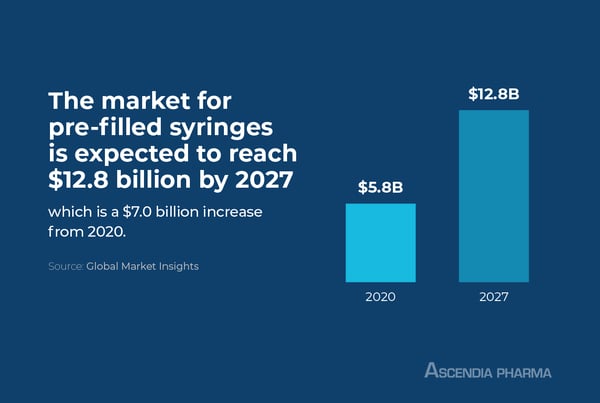 Meeting Market Demands for Pre-Filled Syringe Products
The market for pre-filled syringes is growing at a rapid clip. Global Market Insights valued the market at $5.8 billion in 2020 and projects it will reach $12.8 billion by 2027, with surging geriatric and diabetic populations fueling market demand.
The increasing number of biologics on the market also plays a significant role in this high demand, as biologics often require the use of pre-filled syringes for optimal safety and accuracy. As first-wave biologics come of age, the market for biosimilars is also on the rise. These products are not suitable for delivery via the oral dosages commonly used for small molecule drugs; consumer preference for convenience is driving manufacturers to create pre-filled syringe products as opposed to using traditional aseptic vial filling.
With demand high, there is a pressing need for innovation in the pre-filled syringe market. Lubricant-free glass syringes are one such innovation that is poised to change how pre-filled syringe products are formulated and manufactured. Bubble-free filling via vacuum is another development that improves the stability of oxygen-sensitive drugs during sterile fill finish. Autoinjectors and needleless devices are becoming increasingly popular with patients and healthcare providers as well, which means manufacturers must stay abreast of the latest trends to remain competitive.
Related Read - Accelerating the Biologics Development Process
Advantages of Pre-Filled Syringes
Although we can certainly attribute much of the growing interest in pre-filled syringe products to the expansion of biologics market, that's not the only reason for the increased demand. Pre-filled syringes offer a number of benefits for consumers, providers, and pharmaceutical manufacturers.
Convenience
Pre-filled syringes offer unparalleled convenience for patients and healthcare providers. Because the pre-filled syringe is a single-use device, there are no concerns about reuse or contamination. Additionally, they are simple to use and require minimal training, which reduces the time spent on instruction and administration. Pre-filled syringes allow patients to easily administer self-injections, which is beneficial to those who have difficulty traveling to a healthcare provider or require daily injection schedules.
Related Read - Long-Acting Injectables (LAIs): Benefits & Drug Development
Manufacturing Cost
Pharmaceutical companies can often reduce their production costs with pre-filled syringes. Elimination of manual filling and stoppering can drastically reduce labor expenses, while increased accuracy and safety can significantly limit waste. The improved shelf life of pre-filled syringes compared to traditionally filled syringes reduces stock losses and self-injections lower healthcare costs as well.
Accuracy
Pre-filled syringes provide greater accuracy than manual filling, which helps guarantee the safety of patients and providers thanks to the reduced risk of dosing errors. Additionally, pre-filling eliminates the need for individualized measurement and mixing of drugs prior to injection, saving time and reducing another potential source of medication errors.
Sterility
The aseptic filling process used in the manufacturing of pre-filled syringes ensures that no microorganisms or other contaminants are introduced into the drug. This process is extremely important, as it protects patients from potential infections and other adverse events caused by contaminated products.
Related Read - Types of Sterile Dosage Forms (and How to Choose)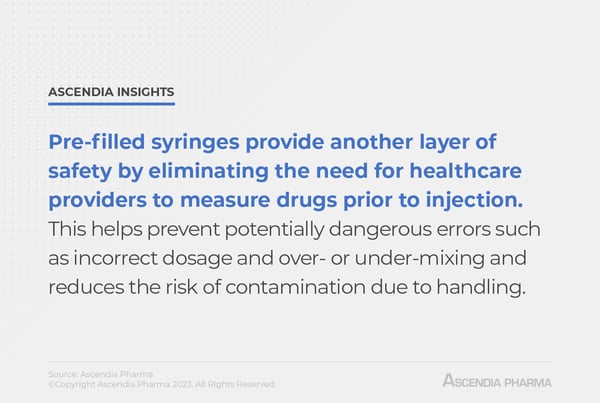 Safety
Pre-filled syringes provide another layer of safety by eliminating the need for healthcare providers to measure drugs prior to injection. As mentioned above, this helps prevent potentially dangerous errors such as incorrect dosage and over- or under-mixing, but it also reduces the risk of contamination due to handling. Additionally, pre-filled syringes are designed with patient safety in mind, providing features such as predetermined needle length and gauge, as well as safety mechanisms to protect the user during self-injection.
Less Overfill
Pre-filled syringes are more precise than manual filling, which reduces the need for overfill; it's estimated that pre-filled syringes reduce overfill by 20 to 30 percent. Patients receive accurate doses and helps eliminate the loss of valuable product, thus reducing costs for pharmaceutical manufacturers.
Related Read - Top Considerations When Developing Formulations for Injectable Solutions
No Preservatives
Pre-filled syringes don't contain preservatives, which can prevent the potential for dangerous reactions in sensitive patients. This also helps reduce costs for manufacturers, who are no longer required to add preservatives or other additives to the drug.
No Need for Compounding
Compounding, which can be a time-consuming and potentially hazardous process, is not necessary with pre-filled syringes. Eliminating compounding also reduces the need for specialized pharmacy personnel, resulting in greater efficiency and cost savings.
Related Read - Lyophilization Contract Manufacturing Services: What to Know
Challenges in Aseptic Pre-Filled Syringe Manufacturing
While there is an impressive list of benefits when it comes to pre-filled syringes, there are also some downsides to consider.
Packaging
The packaging and delivery systems of pre-filled syringes must protect the product from contamination during transport and storage. Additionally, manufacturers must ensure that the packaging is tamper-proof but still be easily used by patients.
Manufacturing Difficulties
Manufacturing pre-filled syringes can be difficult due to the complexity of the process and the need for precise control over product temperature, pressure, and other variables. For example, complex protein and peptide drugs have unique formulations and safety profiles. The result is manufacturing practices vary from one product to the next. Many biologics also have high viscosity, which presents a challenge for filling and the common solution of heating a compound to reduce viscosity isn't an option for heat-sensitive drugs.
Related Read - Biologics vs. Small Molecule Drugs: Which Are Better?
Regulatory Compliance
Due to the sensitive nature of pre-filled syringes, manufacturers must comply with strict regulations which can increase costs. Additionally, there are certain requirements that must be met to ensure product safety and efficacy, such as validating the sterilization process and meeting storage and expiration guidelines.
Pre-Filled Syringe Manufacturing Process
Ascendia Pharmaceuticals is experienced with the manufacturing process for pre-filled syringes. The process typically consists of several steps: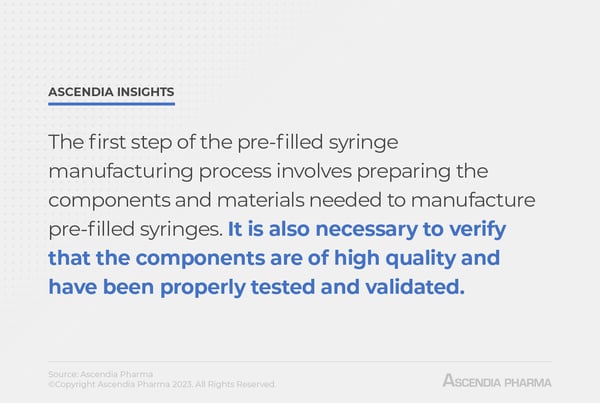 Preparation of Materials and Components
The first step of the process involves preparing the components and materials needed to manufacture pre-filled syringes. This includes cleaning and sterilizing the container, plunger, needle, and other components used in the assembly process. It is also necessary to verify that the components are of high quality and have been properly tested and validated.
In addition, formulations must be compatible with the materials and components; extractables and leachables can interact with the contents of a syringe, compromising the integrity of a drug.
Related Read - Explore the Capabilities of Ascendia's Pharmaceutical Manufacturing Facility in the USA
Filling and Finishing
Once the product is ready, it must be filled aseptically in a cleanroom to prevent contamination. This is typically done with specialized filling machines which are designed to control pressure and temperature. Filling is typically done in batches and must be strictly monitored to ensure accuracy.
Because the fill finish process must be conducted aseptically, there are several considerations that need to be taken into account. This includes using the correct environment and equipment to ensure sterility, maintaining strict temperature controls, validating the process, and testing for particle contamination. It is critical that pre-filled syringes are sterile and free of pyrogens.
Next, the pre-filled syringes must be finished. This typically involves labeling, packaging, and inspection by visual inspection or automated systems to ensure accuracy.
Testing and Quality Control
The last step in the process is testing and quality control. This includes tests related to sterility, particulates, chemicals, and bioburden. It is also important to perform a series of tests to verify that the product meets all requirements before it is released to market.
Because pre-filled syringes must be sterile, manufacturers must verify that their processes are compliant with standards such as Current Good Manufacturing Practices (cGMP). They must also test and validate each step of the process to ensure that the product is safe and effective.
This complex manufacturing process requires rigorous quality control measures, specialized equipment, and extensive validation to guarantee a safe product.
Shipment
Finally, the pre-filled syringes are shipped. The packaging must be designed to protect the product during transport, and it is important to make sure that the final product meets all applicable regulations.
Related Read - cGMP vs GMP: What's the Difference?
Finding a Fill Finish Facility Partner
Identifying a reliable fill finish facility partner is essential for the success of any pre-filled syringe manufacturing project. It is important to work with partners who have experience in the industry and can provide guidance throughout the process. Additionally, manufacturers should verify that their chosen partner has adequate resources to meet all requirements and adhere to international standards, such as cGMP.
Ascendia has Class 10,000 (ISO 7) and Class 100 (ISO 5) cleanrooms to conduct cGMP manufacture of sterile injectable products in our North Brunswick, New Jersey headquarters. We also perform aseptic processing using isolator systems to decrease how much personnel is involved. Our approach separates the external cleanroom environment from the aseptic processing line.
Ascendia Pharmaceuticals specializes in parenteral dosage forms, including aseptic pre-filled syringe products, which means we have the experience and knowledge needed to get your product to market faster. To learn more about partnering with Ascendia for fill finish manufacturing, contact us today.
Back to articles