2023: Everything that Brought Us Where We Are Now…and How it will Help Us Achieve New Heights

By Robert Bloder
2023: Achieving new heights through expansion of services, talent, and facilities.
In 2022, our team continued its explosive growth on the back of the many successes we've achieved in preformulation, formulation, target product profiles, and helping our clients advance their products into the clinic. We've done all these things and more – and our numbers reflect that. It was a fitting way to celebrate our 10th anniversary as one of the industry's leading specialty CDMO.
Day in and day out, we continued meeting our clients' needs and making them happy – and we did it all during a year in which we expanded into a new 60,000 square foot state-of-the-art facility! This space was a former Cambrex facility. Up until the beginning of 2022, Ascendia occupied half of it and by the end of 2022, we successfully completed our transition into the entire space. We immediately began fitting the building space with the latest technology and equipment. Our metrology teams worked nearly around the clock to ensure we could begin utilizing it as quickly and efficiently as possible to offer sterile and non-sterile manufacturing, as well as clinical trial materials.
Our new facility has allowed us to offer capacity and startup times in a way that virtually no other organization in the specialty CDMO market can offer it right now. Our time to begin a new project remains at about two to three weeks, which - compared to the market average - really shows that we are ahead of the curve for capacity and start times.
But when showcasing what Ascendia has to offer going in to 2023, it is about much more than just our new facilities – it is also about our talented team - working diligently.
Strategic Bioscience Location
New Jersey is a very competitive market in terms of bringing on and retaining the right level of talent. The expansion of Ascendia into these beautiful new facilities has made us look very attractive to the leading scientists and specialists in the pharma and biopharma area. While we were in San Francisco recently during the JP Morgan Healthcare event, a number of C-suite executives, our peers, and even a few potential clients and analysts following the market all said they were experiencing a spike in attrition within their organizations. This is cause for concerns a - for them, obviously, because even if they have the capacity, they no longer have the talent base to provide their services in a consistent way. Conversely, the combination of our leadership team's vision generating year-over-year growth and the expansion of our – state-of-the art new facility has allowed Ascendia to not only retain our talent, but to attract the most experienced and capable scientists to join our ranks over the past years.
In addition to bringing on expertise and talented individuals who are proud to call Ascendia their home, we have also been fortunate to work with customers that are just as happy to call Ascendia their preferred CDMO. In fact, many have named us a Partner of Choice. We've successfully moved them into clinical trials much quicker than they had expected – even those with quite challenging and complex compounds. In fact, with the marked successes we've had with them, at least two of our customers have been able to raise well over $500 million each. They are now going to be filing their INDs and moving forward with their products. We love stories like these, and we're happy to be a part of their growth and success – just as they have been with ours. These are the exact client relationships we will continue to look to form in 2023!
Needless to say, we are excited about this coming year. We have the right people, we're in the right location, and we've created a culture that the - customers love being part of.
There are so many great things going on – and that is very important for the sponsors and clients who are coming to us to see. They pick up the energy we bring to every project and see that their goals become our goals. We have Brilliant technology, Excellent service, Superior quality and Trust (BEST) that instills confidence in the minds of all our customers. And that's really all you can ask for in a business as you're considering moving your project forward with them.
The coming year will see us add some excellent technology platforms that will allow us to continue working with all of the delivery dosage forms, like EmulSol®, AmorSol®, NanoSol®, and just recently we've even added LipidSol to our platform as well. This new platfom enables us to work with lipid nanoparticles (LNPs) to enhance the solubility, and improve the bioavailability – all while maintaining stability and product critical attributes. These are really the main tenets of great drug formulation and delivery. And we know we can now do that better than ever.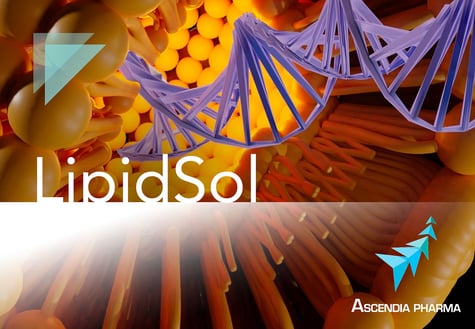 Coming Soon - Phase III & Commercial Supply Products
We are also proud to announce that we will soon be offering Phase III and Commercial Supply Products as well! We will be scaling -up with a large piece of sterile equipment specifically for large commercial supply; a capability that we're looking to bring inline production in 2024. It will be unique and new, and allow us to produce prefilled syringes, vials, cartridges, and other deliverables at an even larger scale.
All of this is what Ascenda is bringing to the table for our customers in 2023. These are the things that matter to the pharma and biopharma industry that invests hundreds of millions of dollars to bring their new drugs to market; to help patients currently have needs that are unmet. They want to know that their projects are in good hands; that we are not going to add more cost to their business model as we help them formulate and deliver on time. They know there's no additional time or money to spare if they plan to win this race. We feel confident going in to 2023 that our clients know that we will be running right next to them – on pace – giving them every advantage we have, every step of the way!
Back to articles