Biologics CDMO: What It Is & Why You Need One in This Market
While contract development and manufacturing organizations have always had a place in the pharmaceutical industry, the rapid growth of the biologics market has made biologics specialty organizations even more crucial. The complexities involved in developing biologics and scaling manufacturing to get them on the market makes handling the process in-house unfeasible for all but the largest pharmaceutical companies.
What Is a Biologics CDMO Company?
A biologics contract development and manufacturing organization (CDMO) provides biological medical product development and manufacturing services for pharmaceutical companies. This type of CDMO may either specialize in the development and manufacturing of biologics alone, or they may offer these same services for biologics as well as small molecule drugs.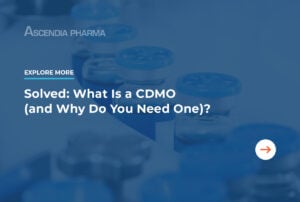 When a pharmaceutical company discovers the need for a new biological medical product, also known as a biopharmaceutical or biologic, they may choose to partner with a biologics CDMO to outsource one or more steps in the development and manufacturing process. Some biologics CDMOs focus on providing support for certain bottlenecks in the development process, while full-service biologics CDMO companies have the ability to handle any and all steps of drug development and manufacturing.
Thus, biologics CDMOs often offer services related to:
• Formulation
• Dosage
• Stability
• Research and development
• Manufacturing
Biologics CDMOs are valuable resources for pharmaceutical companies, as they have extensive experience navigating everything from pre-formulation to clinical trials and commercial production. When being first to market is key, biologics CDMO companies have the knowledge and expertise to make it happen.
Biologics CDMOs, CMOs, and CROs: Which Do You Need?
In addition to biologics CDMOs, the pharmaceutical industry has biologics CMOs and CROs.
A biologics CMO is a contract manufacturing organization specialized in biological medical products. These companies deal only with drugs that are pre-formulated. In other words, they only manufacture drugs and have no involvement in the development. Biologics CMOs can offer the manufacturing of solutions, emulsions, and nano-suspensions; liquid-filled capsules, aseptic filling, terminal sterilization, pre-filled syringes and vials, and tablets and capsules.
A biologics CRO is a contract research organization specialized solely in handling the clinical trial process for biological medical products. They plan, coordinate, and carry out clinical trials, including site selection, recruitment, monitoring, and collecting data.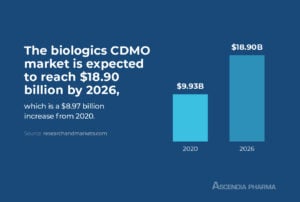 Biologics CDMOs handle development and manufacturing, and many also offer clinical trial services. Because cost and speed to market are pressing concerns for pharmaceutical companies interested in pursuing biologics, streamlining the development, manufacturing, and research process by outsourcing all three to a single biologics CDMO is often the best solution.
Biologics CDMO Market Size
The biologics CDMO market was valued at $9.93 billion in 2020 and, per a research report from Mordor Intelligence, is expected to reach $18.90 billion by 2026, with a compound annual growth rate of 11.2 percent between 2021 and 2026.
The impressive growth of the biologics CDMO market can be directly linked to the increased demand for biologics due to an aging population and the complexity of developing and manufacturing these drugs. Monoclonal antibodies (mAbs), recombinant biologics, and large molecule treatments for cancer are among the most rapidly growing sectors of the biologics drug market.
Benefits of Working with a Biologics CDMO: Why You Need One in This Market
Even under the best of circumstances, the development of a new biologic is a lengthy and costly undertaking. By partnering with a specialized CDMO for biological formulation development and manufacturing, pharmaceutical companies benefit in the following ways:
Unmatched Expertise
Pharmaceutical companies have talented scientists and researchers, but it takes a different skillset to take their discoveries and scale them to market. Biologics CDMOs have dedicated researchers, chemists, and experts at every stage of the development and manufacturing process. A CDMO that specializes in biologics will naturally have a greater depth and breadth of experience because they spend the bulk of their time focusing on biopharmaceutical development and manufacturing. A collaborative effort between a pharmaceutical company and a biologics CDMO company yields innovative solutions and a smoother development process.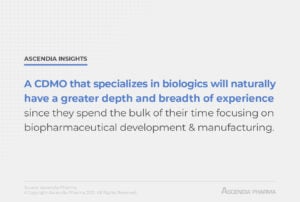 Equipment and Manufacturing Facilities
During the COVID-19 pandemic, CDMOs have played an important role in the deployment of vaccines, as pharmaceutical companies do not always have the capabilities to handle the development and manufacturing of their discoveries to bring them to market quickly and cost-effectively. As discussed above, knowledge and expertise are one part of this equation, but the other is equipment and manufacturing facilities.
Because the manufacturing of biologics is so complex, it's simply not possible to adapt small molecule drug manufacturing to make it suitable for biologics; different equipment and processes are needed. Even pharmaceutical companies that have in-house manufacturing often face tough decisions when capacities are stretched to the limit or when a new drug is introduced, requiring costly investments to ramp up production.
Outsourcing with a biologics CDMO allows pharmaceutical companies access to the equipment and facilities they need, without requiring the capital investment to purchase or build them. This also provides the companies with increased flexibility should needs change in the future.
It's common for biologics CDMO companies to be backed by private equity, giving them the funding needed to upgrade equipment and stay on the cutting-edge of development and manufacturing technology. In other words, not only does working with a biologics CDMO mean access to biopharmaceutical equipment and facilities, it often means access to some of the best equipment and facilities.
Smart Scalability
Biologics CDMOs help pharmaceutical companies scale in a smarter way by reducing their risks. An outsourced manufacturer is able to help meet production deadlines and increased demand by shifting production volume as needed, seamlessly adding a drug variation, and scaling manufacturing without the added expenses of labor and facility space. In addition, there's shorter lead time needed when making these changes when working with a biologics CDMO company.
Biopharmaceutical Development: Factors to Consider
One of the reasons biopharmaceutical development presents so many challenges is because it deals with living organisms. When developing vaccines, blood components, gene therapy, recombinant therapeutic proteins, and other biologics, a CDMO must have the proper procedures in place to address the following factors:
• Molecule size – Biologics are also known as large molecule drugs, as their molecules range anywhere from 3,000 to over 25,000 atoms. This size is considerably larger than those of small molecule drugs.
• Complexity – Rather than being synthesized with chemicals, biologics are composed of sugars, proteins, and nucleic acids; they are derived from cells, tissues, and other living entities. This makes biologics more complex.
• Aggregation and degradation – Biologics CDMO companies must be adept in preventing and reducing the level of aggregation, which is challenging due to the natural variations in biopharmaceuticals.
• Exposure to various conditions – During formulation development, the biomolecule can be exposed to:
– Buffers, pH levels, salt concentrations, shears, and varied temperatures

– Excipients used to stabilize the protein and aid in manufacturing or drug delivery

– High concentrations of buffers and additives, before protein aggregation occurs
Biopharma Contract Manufacturing: A Look at the Process
When it comes to manufacturing, a biologics CDMO must operate under cGMP in a state-of-the-art facility, taking steps to maintain aseptic conditions to protect the integrity of the biologics they manufacture. Biological macromolecules are fragile, and the living cells are sensitive; manufacturing biologics means being mindful of mammalian cell culture, harvest(s), purification and modification reactions, fill and finish, storage, and shipping conditions.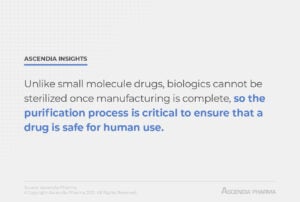 A growth medium must be used to culture cells outside their natural environment; this medium supports all specialized cell functions and supplies essential nutrients to the cells. Next, the cell culture is harvested by removing it from the medium. To accomplish this, a manufacturer may use centrifugation, microfiltration, depth filtration, filtration, or microfiltration.
With the cell culture harvested, it must then be purified to remove host cell protein, DNA, viruses, endotoxin, aggregates, butters, detergents, and other impurities. Unlike small molecule drugs, biologics cannot be sterilized once manufacturing is complete, so the purification process is critical to ensure that a drug is safe for human use.
After a drug has been purified, fill finish takes place, which involves filling vials with the biologic drug and packaging it for distribution. By following cGMP practices, biologics CDMO companies can perform fill finish while still preserving the integrity of the protein's 3D structure.
Because biologics are temperature-sensitive, a biopharma contract manufacturer must also make special considerations for storage and shipping conditions. Cold chain logistics are required to preserve biologics and ensure their efficacy once they reach end-consumers.
Ascendia: An Advanced Biologics CDMO Company
Ascendia is a leading biologics CDMO with specialized experience in drug delivery technologies that optimize formulations for biopharmaceuticals and other large molecule drugs. The versatility of EmulSol®, NanoSol®, and AmorSol® helps Ascendia successfully formulate almost all new compounds. We have generated six patents using our technologies, and our expertise makes us uniquely qualified to handle difficult-to-formulate drugs like biologics. Our facilities include Class 10,000 (ISO 7) and Class 100 (ISO 5) cleanrooms for cGMP manufacturing of sterile injectables, and Class 10,000 (ISO 7) manufacturing suites for oral dosage forms.
Ascendia is recognized as a Partner of Choice by a number of pharmaceutical companies thanks to our ability to overcome even the most difficult formulation challenges. As your biologics manufacturing and development partner, our team is here to provide your pharmaceutical company the support you need to achieve your goals — because your success is our success.
Learn More About Partnering with Ascendia
Contact us today to discuss your biologics development and/or manufacturing needs.
Back to articles